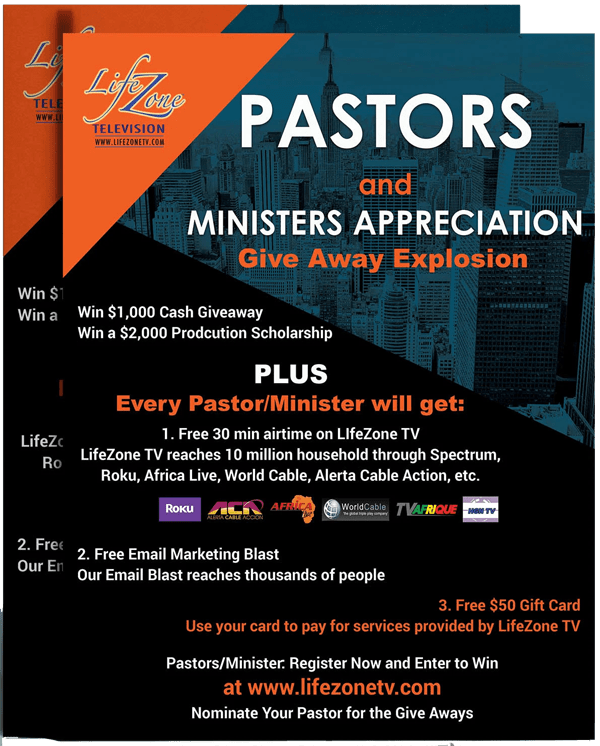 Attention Pastors and Ministers
LifeZone TV is celebrating your great work in the kingdom of God by givng you several give aways in the month of October.
Here are some of what we have for you:
Pastors will get a chance to win:
$1000 Cash Give Away
$2000 Production Scholarship Give Away
Every Pastor and Minister will get:
Free 30 min airtime on LIfeZone TV
LifeZone TV reaches 10 million household through Spectrum, Roku, Africa Live, World Cable, Alerta Cable Action, etc.
Free Email Marketing Blast
Our Email Blast reaches thousands of people
Free $50 Gift Card
Use your card to pay for services provided by LifeZone TV
To Enter to Win Cash Give Away and $2000 Production Scholarship, have your members nominate you
250 Give Away Winners Announcement Schedule

Week 2
Clay Johnson
October 16

Week 3
Emmanuella Young
October 23
Week 3
Dr. Tonya Williams
October 30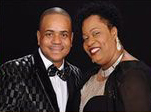 Week 4
Drs. Sheldon/Natalie Evans
November 6
ABOUT THE PASTOR APPRECIATION EVENT
For years, LifeZone TV have produced brunches, luncheons, and conference gatherings for ministry leaders to come together for a few hours and share a meal, hear a message of encouragement, and experience a time of worship. All attendees are also equipped with a variety of resources to help bolster their ministries.
This year, due to the pandemic and our inability to host gatherings in person, LifeZone TV is showing our appreciation the entire month of October by giving away various resources to pastors and ministers and giving them the opportunity to win Cash Giveaway and Production Scholarship.
Pastors and Ministers are encouraged to sign up for the free giveaways. Congregants are also encouraged to nominate their pastors to win the Cash and Production Scholarship Giveaway.